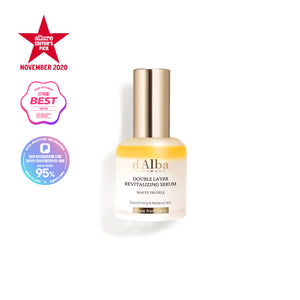 The d'Alba Piedmont White Truffle Double Layer Revitalizing Serum is a serum that improves skin elasticity while nourishing the skin. Made with white truffle extract and plant-based oils, the serum uses a "golden ratio" to provide the perfect moisturization and nourishment for your skin. 
It brings together the use of facial oils and serums into one easy step for your skincare routine. Featuring 10,000ppm White Truffle Extract, it combats premature aging signs such as fine lines and dull skin. 
The "golden ratio" consists of a 30% glow oil layer and the 70% firming serum layer to provide a 2 in 1 double solution for a healthy radiant skin. 
Natural Oil Layer - a layer of nutritious essential oils provide long lasting hydration
The serum layer provides rejuvenation and firming for your skin.
Did you know? The d'Alba Piedmont Spray Serum is famously known as the Flight Attendant Mist in Korea. The present cult favorite product went viral as the #승무원미스트 (#FlightAttendantMist) after many stewardesses, who signify Korean beauty, revealed it to be their skin care secret. Many flight attendants have claimed that the serum is a great skin care solution to fight the dry-cabin air and their long exhaustive schedule. 
This product is free of parabens, sulphates, artificial colors, animal products, silicone, and mineral oils. The product is also vegan and cruelty-free.
Solutions for:
Anti-Aging
Skin Turnover
Deep Moisturizing
Firming
Nourishment
Main Ingredients Include:
White Truffle

30% Skin Turnover
Anti-Aging
Antioxidants
Vitamin B, C, E

Oils


Sunflower Seed Oil
Macademia Oil
Avocado Oil
Annatto Seed Oil

Propolis Extract
Honey Extract
Royal Jelly Extract
Patented Formula

Ceramide Y3
After washing your face, apply a toner for skin tone
Pump the serum about 2-3 times and softly apply to face until absorption